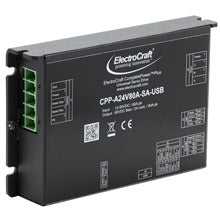 CPP-A24V80: 24A 80V Universal Servo Drive with CAN bus communications
CPP-A24V80A-SA-CAN
Technology: Universal Servo Drive
Quadrants: 2 or 4
Phase Current Peak: 60 Amps (peak of sine)
Phase Current Cont.: 24 Amps (peak of sine)

Introducing ElectroCraft's Universal Drive, the newest addition to the ElectroCraft CompletePower™ Plus family of DC motor drives.
The Universal Drive takes performance, efficiency and flexibility to the next level, utilizing state-of-the-art digital drive technology combined with an intuitive and highly configurable user interface. Perfect for a wide range of industrial, commercial market, and consumer product applications. The CPP-A24V80A-SA-USB is one of four standard capacities in the model lineup. Customized versions are also offered to meet large volume OEM requirements.
Driven by design to be one of the most space efficient, low voltage, digital servo drives available.
Utilizing the latest in digital drive architecture to provide software selectable control mode operation.
Compatible with Brushless motors and PMDC Brush motors from 12 to 80 VDC and up to 24A continuous, 60A peak current.
Modes of operation include speed control, torque control or step & direction positioning for Brushless and PMDC Brush motors.
Sine-wave commutation for brushless motors using either hall sensors or encoder feedback.
Advanced Field Oriented Control (FOC) provides high dynamic response resulting in a robust motor controller with low torque ripple that produces smoother, more efficient motion!
Encoder feedback or IxR compensation is available for PMDC Brush motors.
Easy setup and configuration via USB interface with ElectroCraft Complete Architect™ - Windows-based software.